Zanzani developed a specialist expertise in the disc brake technology then new to motorcycles. He'd been the first in the world to adopt them on a GP racer back in 1965 on the four-cylinder Benelli, using US made Airheart discs rather than the cable operated Campagnolo brakes produced in ltaly for lightweight machines.
Zanzani developed his own process for plasmaspraying aluminium disc rotors with iron to produce a far lighter disc brake package than the steel or cast iron discs then commercially available.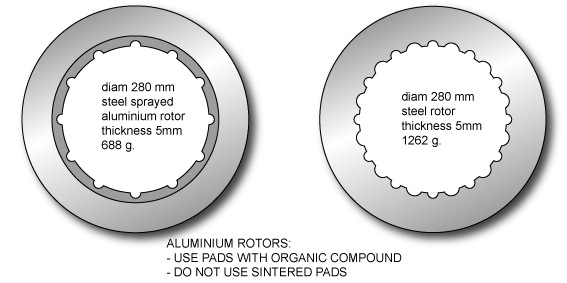 . His brakes became ubiquitous components on GP racers in the smaller classes, winning no less than 26 world championships in the 50/80/125/250cc classes from 1978 onwards, up to and including Alessandro Gramigni's 125 Aprilia World crown in 1992.
Classic Racer, september 1999 by Alan Cathcart